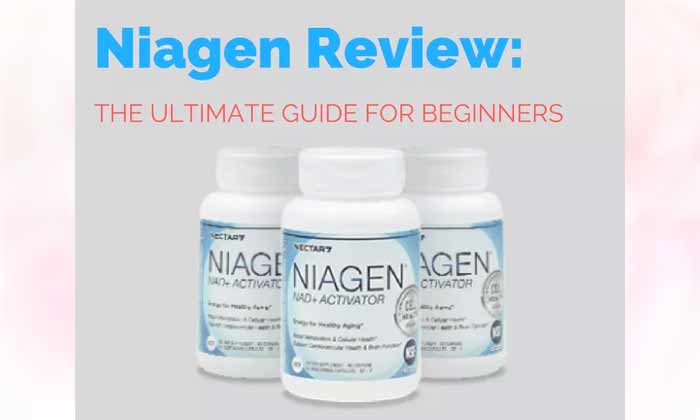 Nectar7 Niagen & Collagen :- Famous as two of the top selling healthy dietary supplements of the online market, Nectar7 Niagen & Collagen and Nectar Niagen claim to bring your optimal mental and physical capability into action. But how much truth is there to the claims? Does it work on long term basis? What happens when you stop taking the pills? Read on to discover our experts' findings on the supplement.
What is Nectar7 Niagen & Collagen?
Nectar7 Niagen & Collagen is a dietary formula which is exclusively being marketed and sold online. It claims to boost overall radiance of the skin along with firmness of the muscles by keeping the collagen and Hyaluronic levels up in the skin. It also promises to supply sufficient amount of Nicotinamide Riboside to develop better muscular health in the long run.
Who is it for? Do you need a prescription?
Nectar7 Niagen & Collagen is a dietary supplement which requires no need of a prescription. Anyone older than 18 years of age can begin using it since it helps in long term development of the skin cells and collagen supply develops higher elasticity within the body.
What are the ingredients? What's the science behind Nectar7 Niagen & Collagen Formula?
The ingredients include Hyaluronic Acid, Collagen and Nicotinamide Riboside.
The official website states that NAD+ helps in charging the mitochondria with energy to improve its capacity.  It aids in boosting youthful performance of the cells by boosting mitochondrial energy. developing higher cellular-level communication within the body, it aids in keeping performance and response system high.
Along with Nectar7 Niagen & Collagen, the manufacturer sells another product by the name of Nectar7 Niagen which also has potent amount of Niagen. Enriched with the recently-discovered chemical compound that is called Nicotinamide Adenine Dinucleotide (NAD+), both of the products aid in initiating better mitochondrial energy and performance enhancement in the body.
NAD+ is critical to cell metabolism (throughout all mammals) as it develops the mitochondria (central to cellular communication). The mitochondrial development is prime to boosting cell differentiation as it plays a direct role in fat, carbs and other conversion processes in the body.
Natural amount of NAD+ reduces on its own with aging in the body and research has revealed that almost 50% decline is seen every 20 year. This mitochondrial dysfunction along with corrupted cell metabolism is what results in visible signs of aging, reduced mental abilities and overall health decrease. Nicotinamide Riboside (NR) acts as a precursor to NAD+ thus making the Nectar7 Niagen and Collagen formula sufficient for the aging body to kick up the mitochondrial energy.
What are experts saying about it?
We found numerous studies on how NAD+ and the ingredients of the Nectar7 Niagen & Collagen formula are useful to the body. The official website links numerous non-sponsored and authentic research studies on its website. A Dr. Carles Canto (Researcher, Ecole Polytechnique Federale de Lausanne, Switzerland) recently discovered that with better NR, oxidative metabolism and shield from high-fat, diet-induced obesity is developed.
Furthermore, NIAGEN® which is the exclusive and genuine commercially available form of nicotinamide Riboside (NR) is what helps in boosting NAD+ levels within the body.
Why is it better than other NAD products?
Niagen used in the Nectar7 products gets absorbed within the body and is used by the bloodstream and body cells. Normally, such vitamin B3 (niacin) types are flushed out of the body through the natural bowel cycle thus the body reaps no benefits from similar formulas.
What benefits can you expect with it?
The central purpose of Nectar7 Niagen & Collagen formula is that it helps in rejuvenating skin and boosting natural leanness of the muscles. Collagen keeps the skin radiant and elastic and the overall formula helps in cleansing the body of toxic amino acids. Moreover, Collagen helps in keeping inflammation within the muscles at bay and Niagen® assists production of optimal energy levels. It also keeps steroid synthesis on the cellular level high.
How to use? 
You can begin with taking around four capsules on everyday basis. daily. You can take two capsules in morning and other two at night.
When would be the best time to take the supplement?
There is no specific time sensitivity associated with Nectar7 Niagen & Collagen so you can take the capsules whenever you find it comfortable and suitable as per your routine.
Is it okay if you take the capsules on empty stomach?
Yes, taking Nectar7 Niagen & Collagen won't have any negative impact on the body. However, it is not necessary that you don't eat anything before taking the capsules as you can take the supplement anytime you want.
Has the supplement been certified or approved by FDA?
When we received a query regarding Nectar7 Niagen & Collagen from a regular reader, one of the concerns was whether the product was safe or not and about its expert approval. The readers asked us to look into the ingredients and its' approval by FDA. Thus, we want to state that no product that is developed, marketed and sold as a dietary supplement needs approval by the FDA. However, it is the ingredients that the users should be bothered about since the nature and potency of the ingredients along with the blend they have been used with is what influences the safety and capacity of the formula.
While examining Nectar7 Niagen & Collagen, we found that the lab where it is made complies with the provisions of Dietary Supplement Health and Education Act and the lab follows internal stringent measures to maintaining proper screening and safety procedures to ensure high quality.
How much does it cost? Is it recommended?
There are no side effects associated with Nectar7 Niagen & Collagen and on speaking with 5 different users of the formula, we found that it enjoys widespread popularity.  One bottle of Nectar7 Niagen & Collagen costs $47.99 and you can get discounts on buying more bottles from its official website.
We recommend using this supplement as it supplies a fast absorbing and rapidly working form of ingredients that boosts NAD+ for real. IT has long lasting and stable results and the cost is quite budget friendly too.