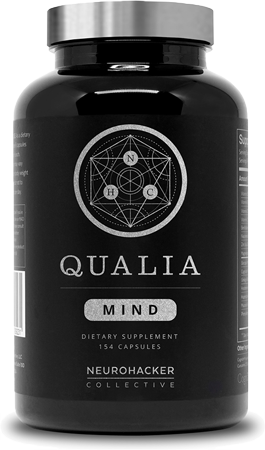 Qualia Mind is a cognitive enhancement designed to optimize the brain functions and improve mental performance. This is rather said to be an advanced formula made with the combination of diverse ingredients. These together bring desired changes to upgrade mental wellbeing.
What Is Qualia Mind?
A unique and comprehensive formula is the line that best defines this product. No wonder, it is getting massive popularity among the masses! Let us introduce you to Qualia Mind, a natural cognitive booster that unlocks and boost your brain health!  As per the details given by the brand, this product is specially formulated to process the cognitive upgrade in a healthy manner & with no side-effects.
This product is manufactured by Neurohacker Collective. This company was founded in 2015 with an aim to create best in class products. Their mission is to improve the health of an individual with the natural formula-based supplements. Hence, they launched their own line of nootropic supplements.
Expectations With Qualia Mind
These are the possible benefits the user would experience with the advised consumption of this product:
Improved focus and concentration power
Elevated energy to keep the brain active & energized and prevent brain fog
Increased memory and recalling power
Boost in overall brain health
Prevention of the brain cells damage
The Proprietary Blend Of Ingredients In Qualia Mind
Nootropic Compounds: Nootropic substances improve cognitive functioning. This formula has 8 premium compounds to work for the cause.
Huperzine A, Uridine Monophosphate, Celastrus Paniculatus Seed Extract,  Theobromine, Phosphatidylserine, Anhydrous Caffeine.
Neuro-Vitamins: The 7 neuro-vitamins in this product restore the nutrient levels and revitalize the nerves & nervous system.
Niacin (as Niacinamide), Vit D3 (as Cholecalciferol), Pantothenic Acid (as calcium pantothenate), Benfotiamine, Vit B6 (as Pyridoxal-5-Phosphate), Vit B12 (as Methylcobalamin), Vit C (as Ascorbic Acid).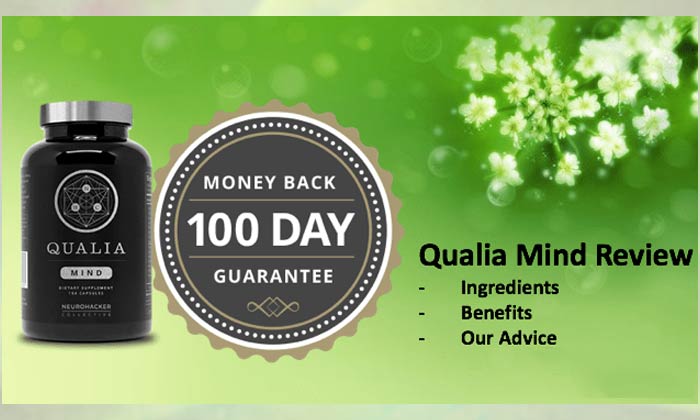 Antioxidants: Pyrroloquinoline quinone and DHA (as Docosahexenoic Acid from Algae) are the antioxidant compounds in this product which promote the cellular damage repair.
Adaptogen Extracts: These help maintain the health of cells to boost vitality & longevity. 10 adaptogens used here are Artichoke Stem & Leaf Extract, Coleus forskohlii Root, Bacopa monnieri Leaf Extract, Ginkgo biloba Leaf Extract, Mucuna pruriens Seed, Rhodiola rosea Root.
Amino Acids: These help to govern cognitive functions by building neurotransmitters. N-Acetyl-L-Tyrosine, Acetyl-L-Carnitine, Taurine, L-Theanine, DL-Phenylalanine are some of the amino acids present in this brain booster.
Choline Donors: Alpha GPC and Cognizin Citicoline are the ingredients that boost the acetylcholine neurotransmitter to control the neuro-motor connection.
How Does This Nootropic Supplement Help?
Neuroprotection: the regeneration of the nervous system by preserving the function and/or cell structure.
Neurogenesis: the growth and development of the nervous tissue
Cerebral Blood Flow: Promotes oxygenation to increase blood flow in the brain and bring mental clarity.
Energy & Metabolic Support: Energizes the brain to boost focus and enhance concentration.
Suggested Dosage Of Qualia Mind
This is a capsule-based dietary supplement to be consumed in a particular cycle (5 days on and 2 days off). Take 7 pills every day on an empty stomach. If you have an upset stomach, take this with breakfast.
You can adjust the dosage amount as per your needs.
Caution: Do not take over 10 capsules at once, or 12 in a day.
100 Day Safe Results Or Refunds Guarantee
For the first-time buyers, there is 100-day money back guarantee. It is applicable to either the initial purchase or the final order of the subscription.
All you have to do is to contact the customer care and place a request for a refund!
Qualia Mind Review: How To Buy?
To make a safe & authentic purchase, consider buying the product through the official website only. Those who are ordering for the first time can get the one-week supply bottle for FREE! Pay a nominal shipping amount of $5 and enjoy all the health benefits.
After 14 days, the manufacturers will send you a 156ct bottle for $119. You can cancel the subscription anytime by calling on 855-281-2328 (Monday – Friday 10am – 5pm PST)
Mailing Address: 179 Calle Magdalena Suite 100
Encinitas, CA 92024