TV stars, Movie actresses, or my boss or colleague… cat eye syndrome has bugged every second girl on the planet!! Alas only I cant draw cat eyes the right way!!
That's how I felt prior to actually doing all the research and everything in order to get the right cliché clutched for a perfect cat eye makeup! Honestly girls.. its a tough job now accomplished.. rather mastered!! I want you to get no hassles and do it yourself at home, so here are some unfailing tips, that well give you the right look perfect for dates, college, office or anything you can imagine!!!
How to do cat eye makeup, Easy tutorial right away-
5 Easy Steps To Get Perfect Cat Eyes
Draw the wing first of all. Starting from the corner of the eyes to outwards, so that it is in the same angle where your eye brows end!

Now make a triangle from a little before the corner of the eyes. Do both the steps on both the eyes.
From the inner corner of the eyes, draw a line as close as possible to the eyelashes, else it will appear blotchy! Sketch a line back to your upper lash line. This is where you decide the thickness of your eyeliner.
Now fill color in the triangle created in the previous step with the pencil. Seamlessly join the upper lash line with the triangle making an symmetrical line. you are
The application of 2-3 coats of thickening, lengthening mascara brings a perfect finish to the proceedings to give a subtle and sultry look. Keep your makeup remover pencil handy. And give it a perfect finishing touch!!
Your perfect symmetrical easy cat eyeliner tutorial is done!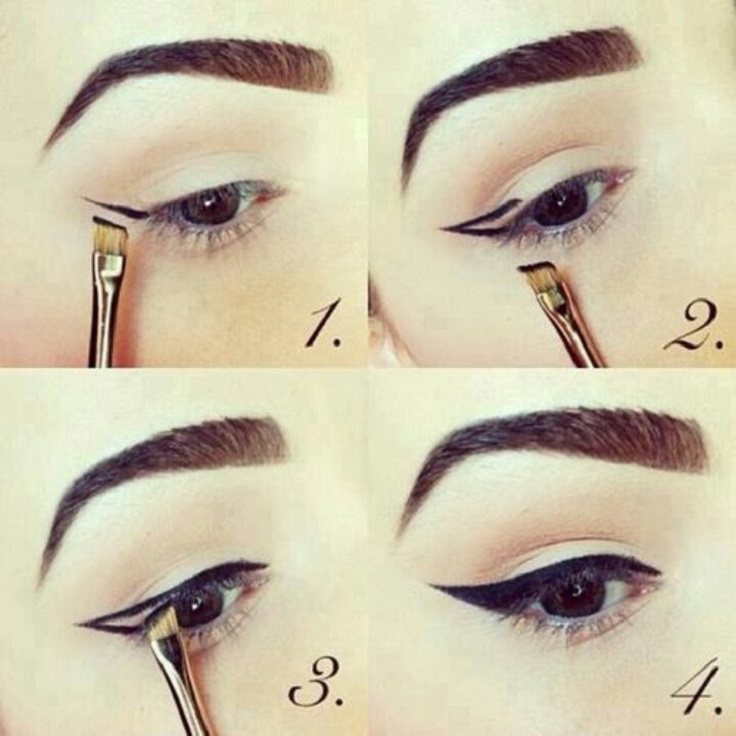 These are not my eyes… I have used stock images…My camera is giving me poor quality pics… so well, borrowing!! Source of the image is given below!
Here we have some IMPORTANT TIPS to take a look at!

Will Cat Eye Makeup Work for Me??
The process for pulling off epitomic cat eyeliner demands no perfunctory attempts but a lot of care! The application of cat eyeliner yields plain smoky eyes. Cat eyeliner is the most unpredictable makeup process because you really don't exactly know what shape to draw!
A wrong move can make it look botched up!
This cat eyeliner is suits every eye shape or face structure and that's is why its such a global hit be it on the ramp or off it!!
It can give a lot of character along with a sheer opulence to your makeup without going over the tip!!
Complete your look with eye shadows, lipstick, and a hint of blush!
Now that we are done lecturing, lets proceed towards things to avoid!!!
Mistakes to Avoid!!
Here are some Mistakes you must avoid while drawing an eyeliner!!
Add a thin line with a pencil, or a kajal on your water line, to finish the look.
Never ever use a liquid eyeliner on your water line.. it can cause infection!
Never hurry up…drawing a subtle look with neat lines needs patience!!
Never overdo your makeup.. applying too much makes your look like a tramp… not your style, I can bet!
Never forget using waterproof makeup for eyes, specially… there are times, you cannot avoid being a little sloppy!
Viola you are done!! Now rock your day with perfect makeup!!
Hey girls just never forget to visit my blogs… Its going to be a hellot interesting inspirational and exciting… Send me your queries, comments, questions and requests… and do tell me if you do not like anything as well…
***